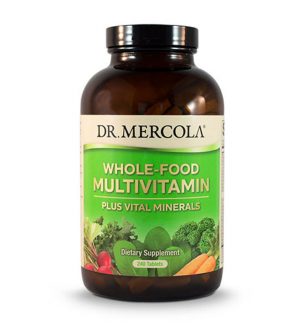 Dr Mercola Wholefood Multivitamin Plus 240 Capsules
£

45.95
Dr Mercola's Whole-Foods Multivitamin Plus provides you with high-potency amounts…
Dr Mercola is an American based brand dedicated to providing you with the very best, high-quality, natural products. Mercola are dedicated to providing the most up-to-date, natural health information and resources that will most benefit you as well as exposing corporate, government, and mass media hype that diverts you away from what is truly best for your health.

Mercola.com is funded by Dr Joseph Mercola, and therefore they are not handcuffed to any advertisers, silent partners, or corporate parents. Therefore when recommending products, they do so because they have actively researched them and found they are the best in that category for your health. They ignore substandard products, and products not directly pertinent to your health, regardless of any potential financial upside.

A portion of the profits generated from the sale of the products goes to a variety of non-profit organisations which are geared towards protecting your health freedom and providing you with valuable information to help you take control of your health.