Description
Alkonisation/Alkalisation
Alkalising:Purifying water by standard reverse osmosis filtration reduces the pH and makes the water more acidic, this is true of all reverse osmosis water filters. However the Alkoniser alkalises the water and gives a high pH value by the use of alkaline material including Sodium, Potassium, Magnesium, and Calcium.  This process thereby takes all of the impurities out of the water by reverse osmosis and then raises the pH.
Ionisation: The pure water is then ionised through a redox reaction, which changes the structure of the water and:
Produces powerful anti-oxidants, the water gains a negative ORP value as low as -500.
The water molecules structure is changed into small droplets.
Alkaline water is produced with a pH of approx 9.
Unit details
Unit dimensions H 40cm W 32cm D 20cm.
Fits conveniently in a cupboard either upright or on its side.
Weight – 6kg.
Power supply – none.
Pumped unit if water pressure is too low. (Please contact for details if unsure.)
External storage tank capacity of 10 litres (Fills up automatically).
Additional tanks can be added if required for high usage.
Filters & Certification
Filter content; manufactured by Water Quality Association (WQA) member.
Fittings to NSF/ANSI 61. NSF . Manufactured by accredited ISO 9001 company.
Ionisation material complies with FDA ICP-OES test.
Separate tap supplied (option for 3 way flow mixer tap upgrade if preferred)
Maintenance Service
Maintenance Service is required every 12 months for optimum performance.
Installation
All fitting components included. Professional Installation time: 1-2 hours. Please contact us if you are interested in us arranging installation.
Warranty
Warranty is 3 years if serviced every 12 months. Yearly service £189.00 (52p per day) includes all replacement filter cartridges.
QUESTIONS & ANSWERS
Q: What is ionised water?
A: Ionised water is water that has an Oxidation Reduction Potential (ORP) to acquire electrons and thereby the ORP is reduced. It is measured in millivolts (mV) The positive reading means oxidisation capability while negative reading shows antioxidant capability.
Q: What do free radicals do?
A: A Free radical is any molecule that has a single unpaired electron in an outer shell. These unpaired electrons are usually highly reactive, unstable and short lived which rapidly react with other molecules, starting chain reactions in a process called oxidation.
Q: Understanding pH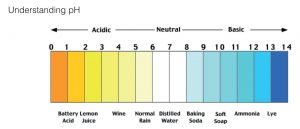 A: The human body needs to keep the blood pH stable. Every person is different. If you find the alkaline pH water uncomfortable to start with (a very small amount of people experience trips to the loo more often.) You then just dilute the water for a week or so and gradually reduce the dilution till you are drinking 100% water from the Alkoniser.
Q: What level of pH can the Alkoniser achieve?
A: Tests have shown with normal mains tap water with a pH of 7, we have achieved up to 10.5 pH. The average reading is pH 9.5.
Q. What are the potential benefits of drinking alkalised, ionised water?
A. There are numerous reported benefits, many books and testimonials exist Good reading material includes: pH Miracle by Dr R Young phD, pH Miracle for Weight Loss Dr R Young phD, Alkaline Water a Scientific Explanation Dr H Hayashi MD
Q. What is so special about the Alkoniser?
A: The Alkoniser has been specially designed to produce Ionised water from reverse osmosis giving optimum performance at a very reasonable cost. It does not require an electrical supply and does not use platinum coated plates to produce the ionised alkaline water. Also the level of filtration is extremely high by using reverse osmosis. It allows you to enjoy alkalised ionised water with high level filtration.
Q: Do I need any pre-filtration for the Alkoniser ?
A: No, the filters are all neatly placed inside the unit.
Q: Can I alter the pH level of the Alkoniser?
A: The level is on average pH 9.5, but you can dilute the water to give a lower pH if required, we can also supply you with pH meter.
Q: Can the Alkoniser remove fluoride from the water?
A: Yes, and much more due to the reverse osmosis filtration and GAC combination.
See the table below for reductions;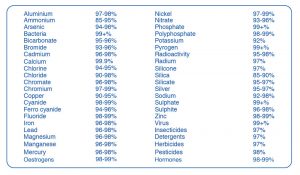 Q: How do you know the Alkoniser can produce minus ORP ?
A: We can measure the ORP (Oxidation Reduction Potential) with a ORP meter. Ionised water should have a – mV value.
Q:  How often do the filters & the ioniser chamber need replacing?
A: Every 12 months or sooner for heavy users.
Q: Does the cost include installation?
A: No, but professional installation can be arranged for £99.
Q: What are the Servicing costs?
A: Servicing can be arranged for £199 per year, paid direct to the Servicer.