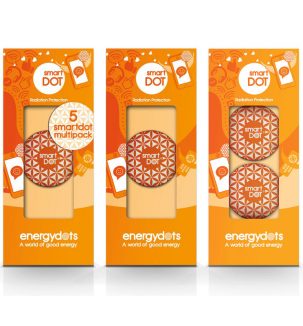 Energy Dots SmartDot – Single, Double or 5-Pack
£

25.00 –

£

60.00
SmartDOTs are EneryDots EMF protection device. They can be used…
We live in an ocean of man-made electromagnetic frequencies (EMFs). The wireless world has exploded and EMFs from mobile & cordless phones, computers, games consoles, baby monitors, wi-Fi bombard us all day every day. They flow through us, compromise our energy field and interfere with the essential electrical communication between cells in our bodies. Daily exposure can have an adverse effect on our health.

To re-tune negative energy and feel healthy and energised, you can use energydots to help you to live well with technology and enjoy it more safely as negative energy or energy interference from other people, particular buildings and our environment can affects us.

Product range includes - smartDOT, bioDOT, spaceDOT, aquaDOT, sleepMAT and Space Pyramid.